What Happened When We Got Together To Make Poetry
If you don't let yourself feel the pain, you won't heal, or even worse: you will forget how to love.
Sharing your voice in a society constructed to bury it is difficult, but finding your voice after what may be a lifetime of burial is a different challenge altogether, especially when it means forcing yourself into the unfamiliar.
I didn't know my own voice, it's pitch, it's volume, the way it could ring, until I hit adulthood. In brief, the seeds of my own voice were never watered while I was growing up. As a young woman with no voice—scratch that: as a young woman who didn't know she could have a voice, I ended up being a really angry teenager with a bitter heart. The first time someone helped me find it (and treasured it for me until I could be proud of it myself) changed me forever.
I became outspoken and fiercely confident.
Now, as a blossoming feminist and women's rights activist, I'm doing what I can to help other women reach that point—to be the water that allows the seeds of their voices to grow. I know the frustration that comes when you are wronged and do not know how to defend yourself. I know the sadness that drains your world of color when you feel powerless against the sheer cruelty of others. I know the loneliness that settles in your heart when you do not know how to express yourself to those around you—or even worse, when you have no one to express yourself to in the first place.
It was time to start creating events for women to come together and find support for their voices to grow, to know that it was necessary for their voices to grow, to share their voices in a safe space.
Last week, BabyFist collaborated with Sard, a borderless spoken word community in Ramallah, to hold a black out poetry event. It was a two-part event in which we had people (men, women, locals, and internationals) black out the words of Arab feminist texts to create poems.
Making each poem was an emotional journey: Firstly, you had to read the text which you were blacking out, to engage with it, understand it, and let it affect you. Secondly, you had to wrestle with it, reading it over and over to figure out how to link the words in a way which accurately reflected what you were feeling and what you wanted to say. And finally, your voice and the text worked as cohesive forces driving the direction of your deeply personal poem—and they were indeed personal! And unique! So many of us were working on the same exacts sheets of paper and yet ended up with radically different poems. It was impossible not to take the sterile academic texts and make something completely your own out of it.
After an hour and a half, we pulled everyone out of their bubbles and into a circle. And let me clarify here that once we announced the discussion portion of the event, we lost everyone but 10 people. And while I was sad that these people left, it made for a small and intimate group at the end.
It became a space in which the DM inbox on the BabyFist Instagram was materialized between breathing human beings. The comment section on our Instagram and blog posts was pulled from the virtual world and into a space of 10 people sitting in circle. And perhaps for the first time, we didn't have the protection of a screen to filter what were thinking and feeling. We didn't have our families or best friends sitting next to us…but rather complete strangers. And we opened up. We laughed, told stories, and asked questions. We cried about the things we had internalized for so long. I cried for the women in the circle who were brave enough to share their stories, and for they way told me that putting their stories into the real world was the first step on their journeys of healing.
And let me make clear why I do what I do. I ask women to share their stories with me because if you don't let yourself feel the pain, you won't heal, or even worse: you will forget how to love. I want help create a community of women who have had their hearts broken by the tragic cruelty of humanity, yet who have emerged with healed hearts free of bitterness and full of love.
One girl shared that she had never cried about what happened to her. A young man asked if we could organize an event at city hall to spread even more awareness. Another girl told me that after tonight, she will return to the streets with confidence, ready to defend her own. To watch these embers ignite into fires before my very eyes was all the fuel I needed to keep working to grow this conversation about women's rights in Palestine.
A masculine space
I have outlined
a city employee, Al Bu'azizi, and finally
Sa'id
unruly
speaking out of turn.
I contested battlegrounds for competing discources
and Muhammad Al Bu'azizi, a vegetable seller
on fire, recounting
what really pushed him: a dress.
Muhammad chose to wear a dress.
Picture wearing
her uniform
against the regime, centered
with her
a representative of
a supposedly scandalous
uprising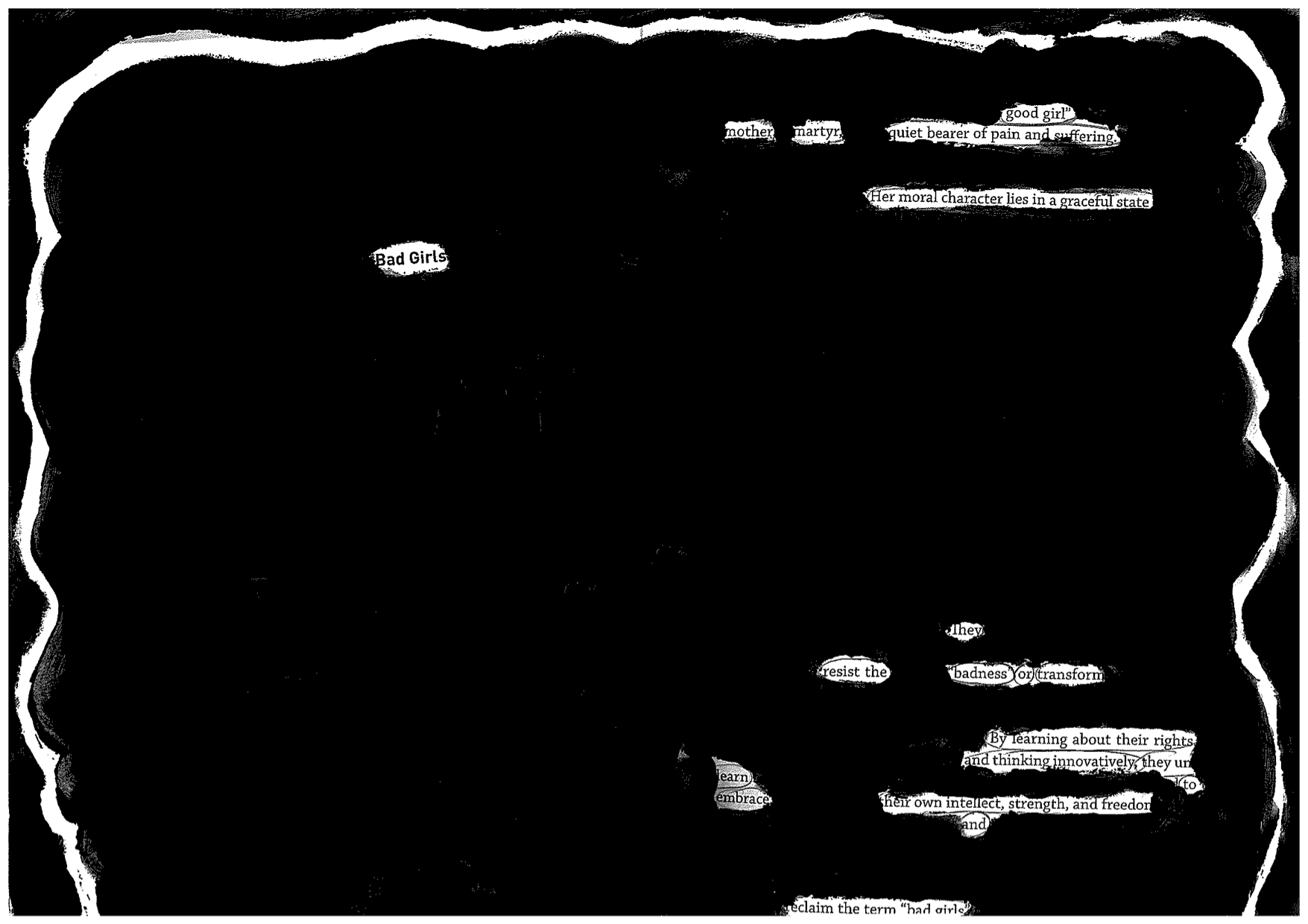 Bad girls,
good girl, mother, martyr,
quiet bearer of pain and suffering,
her moral character lies
in a graceful state
they resist badness or
transform by learning
about their rights and
thinking innovatively
until they learn
to embrace
their own intellect,
strength, and freedom,
and reclaim the term
"bad girls"
anchored in the
twentieth century and
restricted as leaders of their own
liberation.
I had given birth
to new nation-states
of
a people bonded by
the rise
of
feminism
white males, american males
bulletproof,
the structures of domination
and a derogatory, right-wing media.
This conflation of politics and media, characterized by
America married to
politicians and hierarchies
Feminist
in public,
independent of numbers
where high achievers
part of the movement
to restore
sacred participation
in traditional space,
as role models
for self-reconstruction,
to have editorial control.
Believers
in gender-minded schools
to dismantle activities
of confused ideas veiled as
political public moves.