Q&A with Designer Hind Hilal: Grit, Risks, & Rewards
NAME: Hind Hilal
OCCUPATION: Fashion Designer
LOCATION: Bethlehem, Palestine
AGE: 24
Emerging designer Hind Hilal started her fashion brand one month ago and is a prime example of a woman who pursues her passion despite the odds. With a degree in architecture, Hind gave it her all when she took the leap of faith to start her brand, wisely knowing that designing her first collection would be better than any fashion education.
While the brand was made official in the public eye just one month ago, she's been working to produce this collection for the better part of 2017. With the fear of rejection and failure in the back of her mind, Hind's collection was well-received, garnering support from the local and international community.
Below, a Q&A with the budding designer on the journey to fashion designing and the journey ahead.
What sparked your interest in fashion?
I've been wanting to do this since I was 6 years old, always sketching. But here in Palestine we don't really have fashion studies. It's not well-supported in society. Instead I studied architecture but by the time I graduated my interest in fashion didn't die. So, I decided to take sewing courses and started working from there.
Tell me about the recycle competition.
We were a group of Palestinian designers under the supervision of Rami Kashou, an international designer who came all the way from New York. It was a locally sponsored competition, featuring 6 challenges where we had to create high fashion looks out of recycled materials. One challenge was to use coco-cola bottles, paper, candy wrappers etc. Other challenges required to use extremely worn and used clothes. We had 2 days to each challenge. The most important part was to make sure each look has your personal signature in it. It was a lot of pressure but a great learning experience.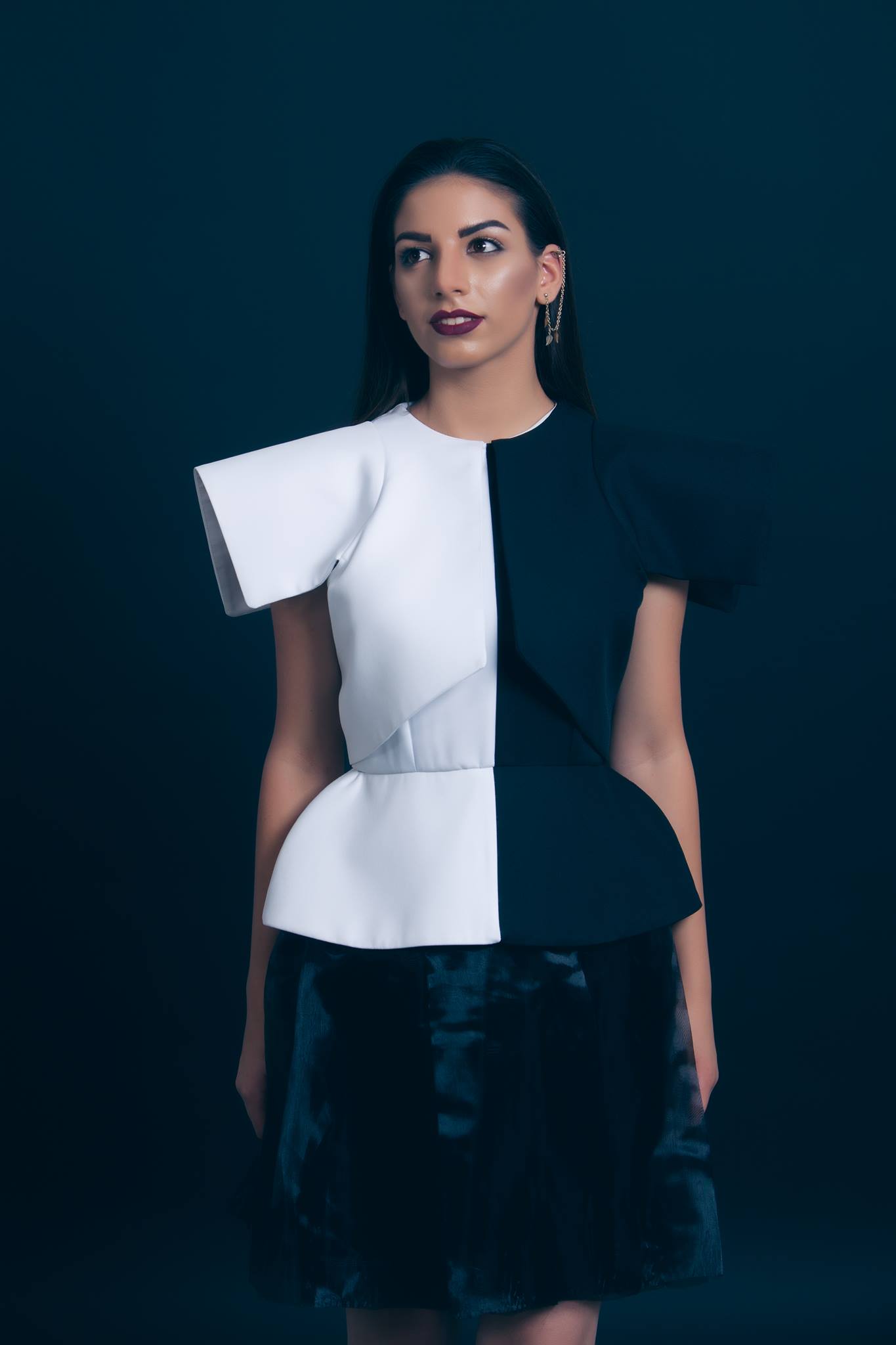 ...to understand how others want to see themselves made beautiful in clothes. It has led me to something more beautiful."
How has your work evolved since you began your own label?
It's changed and is so different now. When you're working on your own and out of the public eye, you create whatever you see as beautiful. But when you communicate and interact with other people, you want to put them in the work you do too. It pushed me to understand how others want to see themselves made beautiful in clothes. It has led me to something more beautiful.
Do influences from Palestine find their way into your work?
Actually, no. I always like to put a contemporary and universal touch on my work. I like to make statement pieces that are avant garde. To be able to deliver new ideas in my work, I look beyond tradition.
What are you fascinated by at the moment and how does it feed into your work?
After the workshop, I've been obsessed with the idea of recycling. So, my sister and I have been digging through our old clothes and I've been playing with them. Using existing clothes helped me to reach a more unique result because you're limited by so many things, the color, the fabric, the amount. It's a challenge that I like.
What is the biggest lesson that you have learned since you started your company?
I told myself that I would give fashion a try but only if I had a goal in mind and if I started from scratch. This meant that everything was new to me and I had to teach myself while trying to create beautiful pieces. Creating clothes is very different from sketching because there are so many factors you need to consider and understand when bringing something to life. I'm learning what to use and what to ignore, measurements, and so on.
One of the most important things is keep chasing inspiration so that it pushes you to create and share with the world, even if it wasn't what you originally had in mind.