Not Your Habibti: Street Stories
Last week, I hosted a socially engaged art project in the streets of Ramallah, Palestine. Women were invited to come up to me and share their stories of street and sexual harassment and took them down on a typewriter.
The project, called "Not Your Habibti," came out of the concern that not enough stories are being heard about the sexual harassment in Palestine and out of the belief that expression of such stories act as the catalyst for the social change women need to walk the streets safely and confidently.
The project, the first of many events to be help across Palestine (schedule to be announced soon), aims to illuminate the issue of street harassment on urban Palestinian streets and to open an honest and uncensored dialogue amongst women affected by said harassment.
In sharing traumas experienced on the streets of their own country and at the hand of their fellow citizens, participants are exposing and humanizing a social issue that is often tolerated and brushed under the rug. Finally, there is a safe and supportive space in which women may share, connect, and find strength.
Below, a few of the stories shared by young women, mothers, sisters, and daughters:
There is a guy who hangs around outside of my school. He's been there for 4 years. The students have always been afraid of him and even told the principle. He talked to the police. The cops said that he has mental issues and didn't do anything so he still harasses us.
I was on my way to school one morning. There was a guy next to me on the bus and there was another girl on the other side. He was in between us. He started to touch both of us. I didn't say anything but the other girl started yelling. The other men on the bus heard her and gave him a beating.
My friend and I were on the way home. We stopped in the city to buy something. My friend pointed out a man following us. I told her maybe she's wrong. We kept walking until it was obvious that he was following. Finally we saw a police officer. When we told him we were being followed, he didn't take us seriously and the guy got away.
I was in the 5th grade at the time. My friends and I were on the way home after exams. We noticed a car following us. The guy in the car parked next to us and offered a ride. We refused a number of times but he was insistent. Eventually, we just started running up the street. Ever since, I've been afraid to walk home from school.
Two years ago my sister and I were walking through the city. He came up to us and grabbed my sister's breast. We punched him in the face and ran away. No one was around. It was in the morning. He thought he could do this to us because we were speaking English. People think foreigners are easy. My sister was really affected by it. We found it hard to trust our fellow Palestinians. We were shocked.
We went as a class to do community service. Were planting trees. While we were planting, cars were driving by and honking. The drivers were catcalling. One of the cars was a police car. The police stopped, stared, and laughed while making comments. A teacher came and stood with us. That's all we could do.
I have a friend who had 3 rape attempts from the same guy. She's afraid to tell her parents because they will turn it into an honor thing. She's attempted suicide. Now she's afraid to go into the streets. It seems as if there is no way out of this for her.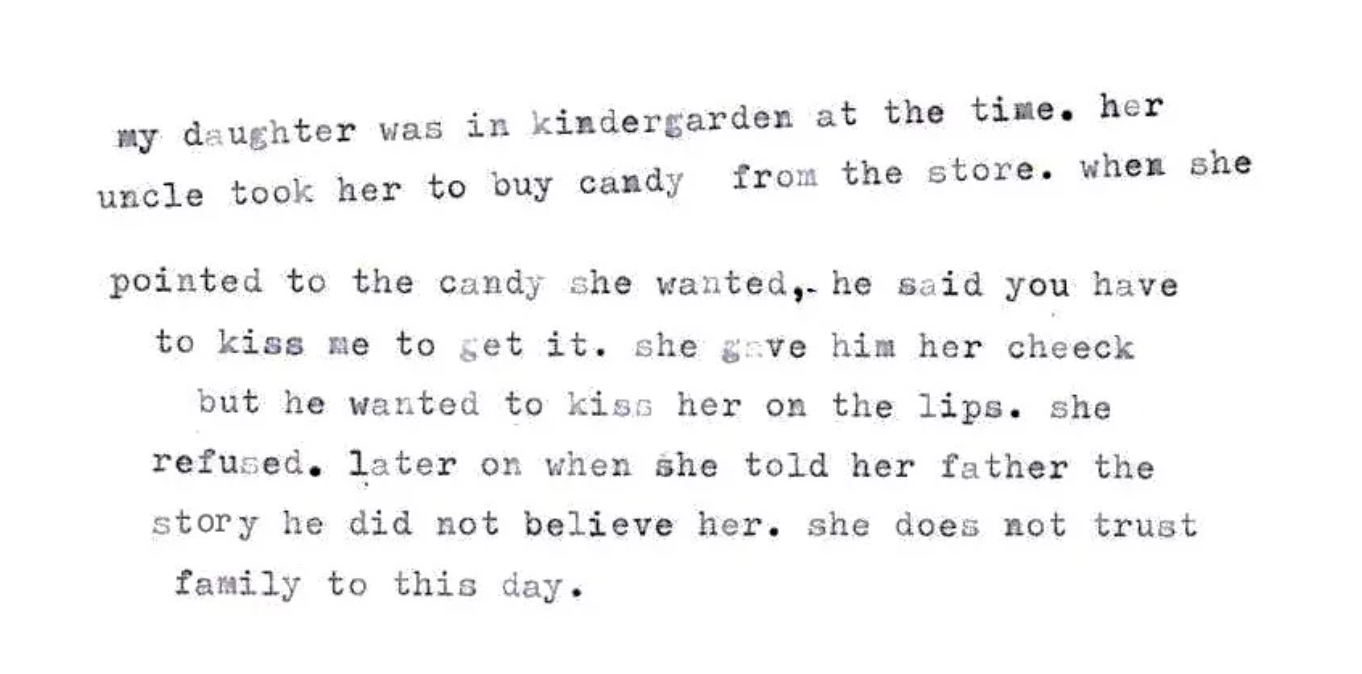 My daughter was in kindergarten at the time. Her uncle took her to buy candy from the store. When she pointed to the candy she wanted, he said you have to kiss me to get it. She gave him her cheek but he wanted to kiss her on the lips. She refused. Later on when she told her father the story he did not believe her. She does not trust family to this day.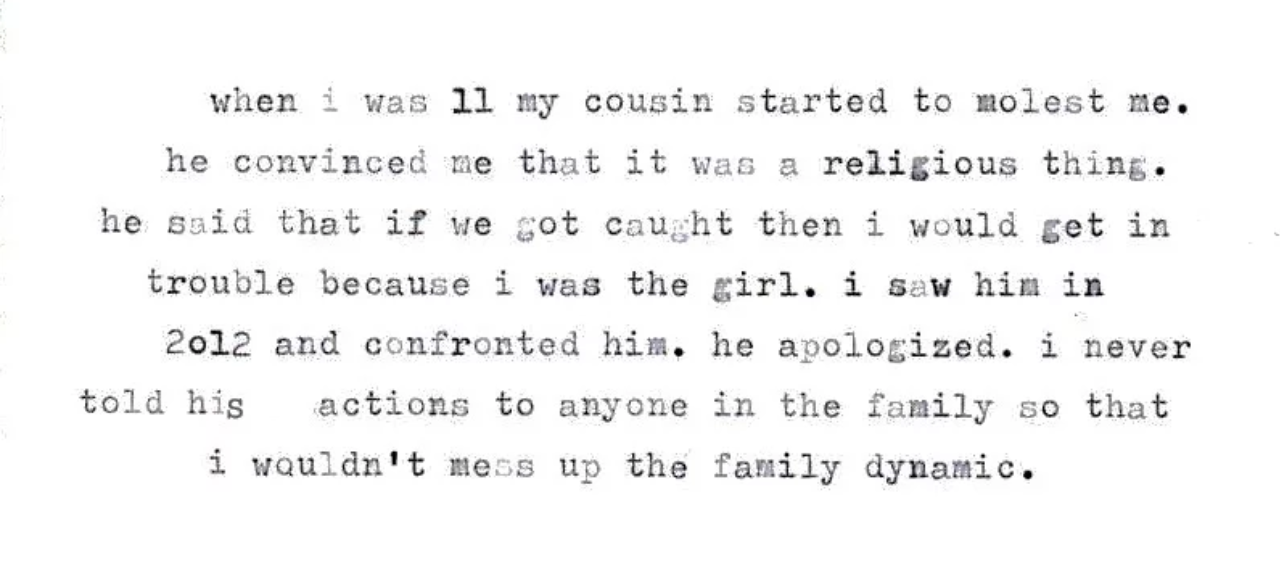 When I was 11 my cousin started to molest me. He convinced me that it was a religious thing. He said that if we got caught then would get in trouble because I was the girl. I saw him in 2012 and confronted him about it.He apologized. I never told his actions to anyone in the family so that I wouldn't mess up the family dynamic.
More About This Genre of Art:
Traditional genres of art typically include painting, sculpture, photography, installation, video, etc. The art I create falls into the genre of "socially engaged art" or "art as social practice"—a genre that has newly emerged in the field of art in the last 10 to 20 years. Although the term is new, the practice itself is really quite old as it is based around the primordial instinct of human interaction. What's new is that it is now considered art—perhaps this is due to the fact that social interaction has become a rarity in today's highly mechanized world.
Social practice is an art medium that focuses on social engagement, inviting collaboration with individuals, communities, and institutions in the creation of participatory art.
This genre holds the power to create a response among a group of people though the power of interaction. I feel that is has become quaint to break the isolation between strangers and interact with someone for a common cause or interest. Social interaction—something as simple as a hug or writing a note to a stranger—is the conduit for creating awareness and dialogue about issues pervading our societies. Art as social practice is an act of creative defiance in that it challenges not only the definition of art but also the very structure of our contemporary society.
***This particular project draws its inspiration from American artist Sheryl Oring's work, "I Wish to Say," which explores the relationship between freedom of expression and politics in the United States. After working closely with Oring in New York and in North Carolina, I have directed my concern for Palestinian women's freedom of speech into this project.