5 Female Palestinian Artists To Know this Int'l. Artists Day
One of the most controversial questions born in the twentieth century and revived in recent years goes: why are there no good female artists? Well, I'm not here to say that there aren't any--we simply don't hear about them as often. It's undeniable that the art world is yet another male-dominated sphere, so I'm using this International Artists Day as a chance to highlight a few of the female artists most definitely worth knowing.
And yes, I know, I could have written a much longer list (feel free to comment a few of your favorites down below), but for now here's a list of a few pretty bad-ass women to get hooked on:
A native of Haifa, Rasha Nahas picked up the guitar at the tender age of 10, since building her career as a singer/songwriter in a raging Palestinian underground scene.
Her work explores the vast realms of sound, playing with the soft melodies of poetry, the echoes of jazz, and the wild command of early rock and roll. Her songs, each one unique from the other, jauntily combine sound in unexpected yet harmonious ways. Nahas' lyrics, in both Arabic and English, are delicate and simple yet controversial and fiercely relatable, playing with questions of time, identity, love, and death.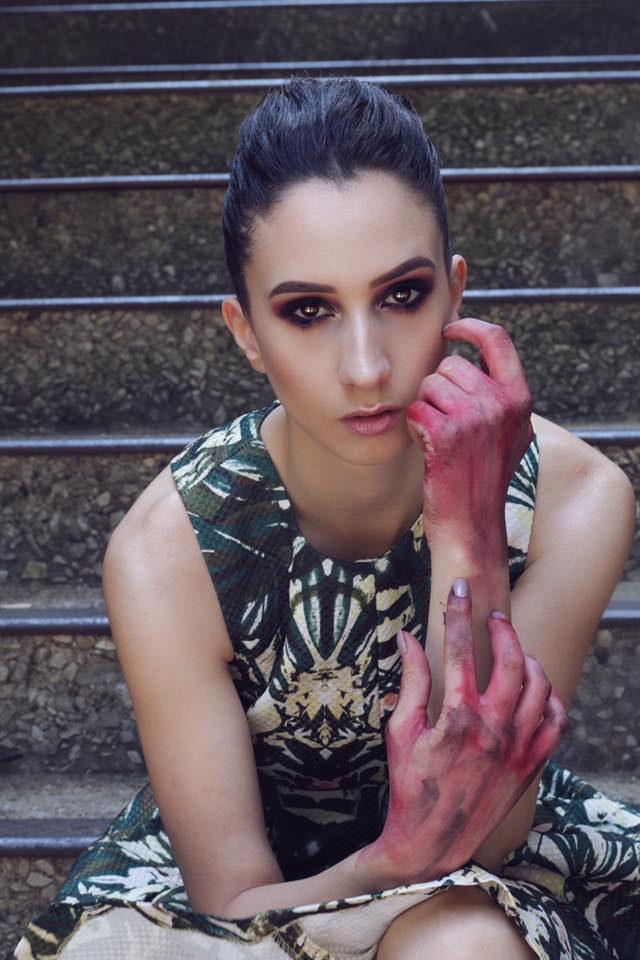 Occupation: makeup activist
In the past year and a half, Rand has opened up the worlds of story-telling, make-up, and activism onto each other. With each of her radical and mesmerizing makeup looks, she's painting a narrative for her followers to read. Her art addresses both sensitive social-cultural issues such as domestic violence, gender inequality, child marriage, and eating disorders.
A master creator in her own rite, Rand learned her skills of make-up artistry on her own and with the help of the internet. She launched Randistic at the start of 2016 to connect the seemingly unrelated worlds of make up and activism. Now, through social media, Rand has dedicated herself to fostering a community for the safe discussion and sharing of stories amongst her followers.
Occupation: visual artist
Born in Gaza, Palestine in 1940, Laila Shawa lives and works from London and Vermont, staying closely affiliated with Palestine by way of humanitarian aid and art. Her art work reflects the socio-political realities of her country, drawing attention to issues of structural violence, political turmoil, the plight of women and children. Using a heightened sense of realism and garish coloration, her work transcends tradition to target injustice.
"I always look for the absurd, and try to cover it up with humour."
Shawa's works are acts of creative defiance, blurring the lines between femininity and masculinity, peace and war, heroism and terrorism, and tragedy and beauty.
Yasmin Khawaja is a co-founder of Sard, "a border-less spoken word community based in Palestine, home to poetry, story telling, creative writing, rap, beatbox and music bands." While her works are published in an online archive, it is her physical presence in which those works come to life. Her commanding and steady voice play to the impact of each line, flowing in crescendo and decrescendo as needed and captivating her audience.
Khawaja's works explore topics of feminism, the tech industry, and personal experiences. Poems weave in and out of simply detailed yet vivid scenes and a personal commentary on such scenes, leading audiences through life as seen through her eyes. The personal experiences are echoes of larger, universal socio-cultural issues, inviting readers and listeners to engage and identify with her words.
Born in Jerusalem and raised in the West Bank, Samar Hazboun first explored photography while pursuing a degree in International Relations in Prague.
Her interest in political expression through art and her personal relationship with the Palestinian case has led her to successfully fuse subject matter and medium into a budding practice of photojournalism.
Her photography shaped itself through her interest in capturing the realities of socially marginalized groups of people. The work is largely centered around women's rights and also explores issues including child imprisonment, gender-based violence, and social realities of occupation. Various series sharply illustrate the harsh stories of such groups which are in desperate need of an audience.